There's something undeniably empowering about stepping out of a salon with a flawless blowout. The silky-smooth, voluminous locks seem to defy gravity, and you can't help but feel like a million bucks. But what if you could achieve that salon-worthy blowout right in the comfort of your own home? Enter the world of natural blowouts every day, enriched with a secret weapon - SPF hair growth serum. In this blog post, we'll guide you through the steps to master the perfect blowout while also nourishing your hair with the benefits of SPF hair growth serum.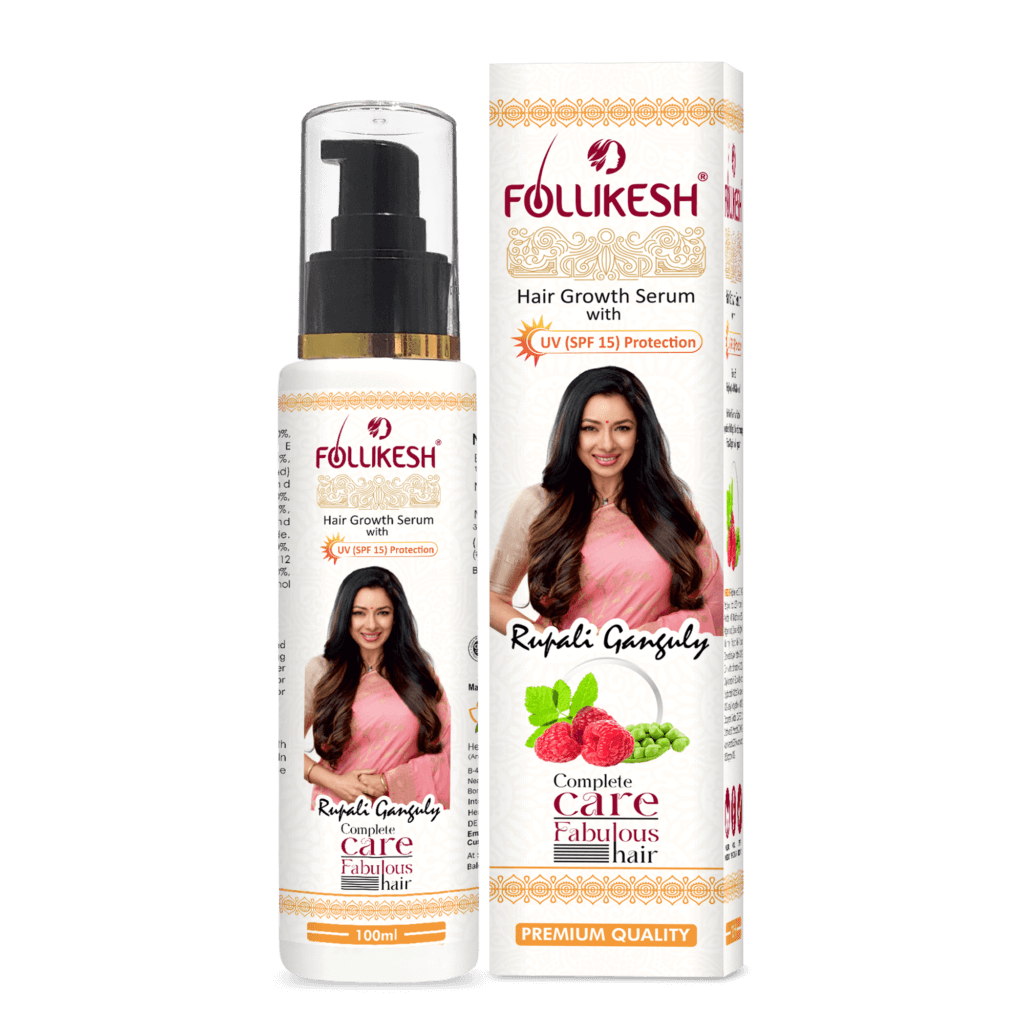 How can Follikesh Hair Growth Serum with SPF-15 Help?
To master the blowout at home, you'd need the best hair growth serum with heat protection, the blow dryer, and the art to carry out the perfect blow dry. Follikesh Hair Growth Serum is a multi-purpose product designed to protect your hair from harmful UV rays while promoting hair growth and reversing scalp damage. Here's why it's a game-changer for your at-home blowout routine:
UV Protection: Just like your skin, your hair can suffer from sun damage. Follikesh hair growth serum shields your locks from UV rays, preventing dryness, split ends, and colour fading.
Hair Growth: Follikesh hair growth serum contains ingredients like Pea Sprout Extract and Redensyl to naturally stimulate hair follicles, leading to thicker, healthier hair over time.
Moisture Balance: Follikesh hair growth serum often includes hydrating agents that help maintain your hair's moisture balance, preventing frizz and promoting a smooth, shiny finish during your blowout.
Strengthening: Raspberry Seed Oil in this hair serum strengthens hair strands, reducing breakage and improving overall hair health.
Steps to follow for a Perfect Blowout at home with Follikesh
Step 1: Prep Your Hair
Before you begin the blowout process, it's essential to prepare your hair properly. Start with clean, dry hair. If you've just washed your hair, ensure it's at least 80% dry before starting. Apply Follikesh hair growth serum with heat protection to shield your locks from the damaging effects of heat styling tools.
Step 2: Section Your Hair
Divide your hair into sections from the bottom using hair clips to separate it into sections. This makes it easier to focus on each part and ensures an even blowout.
Step 3: Choose the Right Tools
Invest in quality hair styling tools - a good hairdryer and a round brush are essential. Opt for a round brush with natural bristles as they provide better tension and create a smoother finish.
Step 4: Blow Dry with Technique
Ensure to begin from the bottom. Use your round brush to guide the heat downwards. The key to a perfect blowout is using the brush to lift your hair at the roots while directing the airflow from the dryer downwards. This adds volume and smoothness.
After blow-drying each section, use the cool setting on your dryer to set the style. This helps your hair maintain its shape and shine.
With the right techniques and the added benefits of Follikesh Hair Growth Serum, you can achieve a salon-worthy blowout in the comfort of your home. Not only will your hair look stunning, but it will also be protected from sun damage, nourished for growth, and maintain that healthy shine. So, go ahead, pamper yourself, and step out with confidence, knowing you've mastered the art of the perfect blowout and invested in the right hair serum from Follikesh.