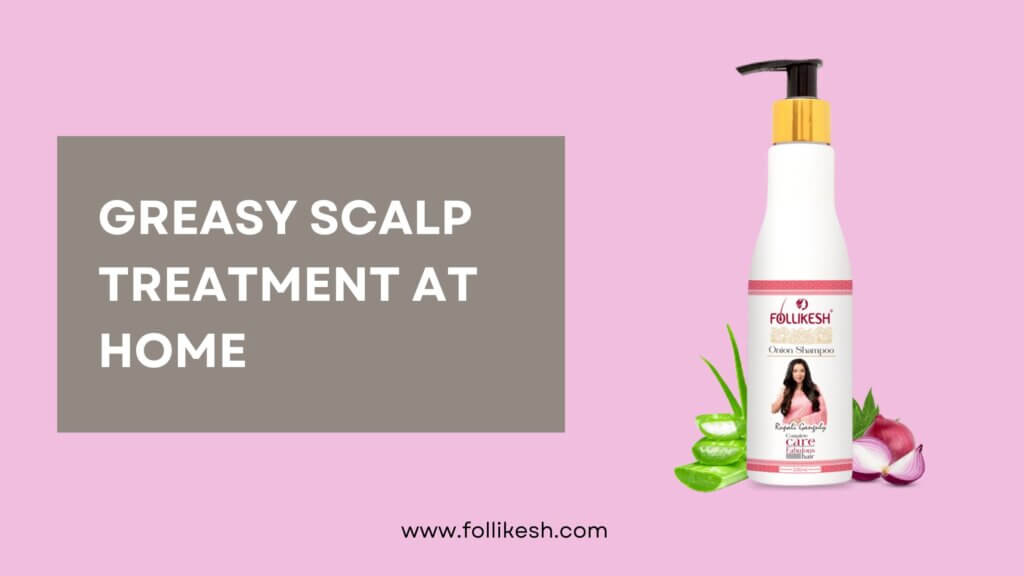 Do your beauty care goals end at your face? You might pause and think of that scalp and hair as well. Hair plays a vital role in nurturing the beauty of men and women. Hence, I personally feel beauty shouldn't be limited to the skin and face itself. A scalp needs similar attention and pampering as you offer to your skin. Failing to do so, you would wake with unhealthy, greasy, and flaky hair every morning. Some other reasons for poor hair quality are using chemical-based hair products, poor lifestyle, hormonal factors, etc. If you haven't gained control over the condition, you might have to face serious damage in the future. If a greasy scalp has been your all-time hair concern, we have got you covered with effective tips and treatments in this article. Before that, let's look at some reasons that may make your scalp greasy.
Reasons for greasy scalp
Anyone with an oily complexion will naturally experience an oily scalp.
Oily or greasy scalp could be genetic as well.
Stressing a lot could trigger the oil-producing glands on your scalp to ooze out oil, causing it greasy.
Frequently touching your hair or scalp through oily fingers could transfer the oil to your hair.
If you have gone overboard with the shampooing session, your scalp might ooze out the oil to prevent scalp over-dryness.
Those using unclean hair brushes may transfer hair oil and other debris to the scalp while combing.
Not using good hair products can leave your scalp greasy and sticky despite washing well.
Dwindling hormones can also cause a greasy scalp. It can be resolved with the help of a trichologist.
Best greasy hair treatment at home
We have curated the most effective best home remedies medicine that you can try easily at home to rejuvenate your greasy scalp.
Widely used as a versatile ingredient, Aloe Vera is best used to moisturize yet treat the greasy scalp. You can make your own Aloe Vera hair shampoo, including three teaspoons of lemon juice, one teaspoon of aloe gel, and a small amount of hair shampoo. Blend everything well and apply it to your scalp. You can repeat this procedure at least twice a week to enhance your hair texture and eliminate greasiness from the scalp.
Multani Mitti
Also known as fuller's earth, Multani Mitti is one of the best organic oil absorbents that ensures to pull out sweat and oil from your scalp to give a healthy and clean scalp environment. You can make a Multani Mitti hair pack, by mixing two teaspoons of this in some water. Apply the mixture on your scalp, leave it for 20 minutes, and wash it off with water.
Egg and Lemon Juice
Combining all the ingredients, lemon juice, and egg together to apply on the scalp. It works superiorly at controlling excess oil while giving a natural shine. Mix the ingredients well, apply them throughout your scalp, and let this stay for 10 minutes. Rinse off with water and use a mild shampoo to cleanse the residue.
Follikesh Onion Hair Shampoo is one of the best alternatives to DIY hair treatments. This onion hair shampoo is mild on hair strands yet effective on the scalp ensuring to strip off excess oil, pollutants, debris build-up, and greasy effect. Loaded with Aloe Vera, Onion, Manjistha, Brahmi, Neem Leaf, and Coffee Seeds, this onion shampoo for hair delivers the best hair fall control and hair growth results. This onion shampoo for hair does not involve parabens and sulphate and therefore, it is safe for everyday use. This Follikesh onion shampoo for hair fall control ensures to strike a perfect balance in the pH level of the scalp while preventing hair from getting itchy, greasy, or dry.