Talking about onion, it is highly popular in the kitchen to prepare delicious meals. Although onion is not limited to the taste, it offers a bundle of health benefits too! The antibacterial properties of onion help deal with infections like a pro whereas the fibre content aids digestion. Moreover, antioxidants help the body fight against the damage caused by free radicals.
Recently hair care industry started creating products out of onion due to its ability to enhance the crown of glory. Its impact on tresses has proven to be a phenomenon and therefore, many have started using onion based hair care products to reap all the benefits of onion. From all the benefits of onion for hair, onion ranks on top for restoring hair fall and similar concerns naturally.
Today the flooded hair care market is full of chemical infused products, which can aggravate hair concerns. Here's the secret to creating your red onion oil for hair growth from the comfort of your home. Although this recipe involves ingredients more than onions to multitask on your scalp.
Things you'd need:
200 ml of your choice of carrier oil
½ chopped onions
1 cup curry leaves (optional)
Steps to make red onion hair oil for hair growth:
Onion has a superior impact on hair and scalp, but a carrier oil can make your scalp absorb the ingredients well without triggering irritation.
Blend the chopped onions and add curry leaves to them. Avoid adding water while grinding.
Empty the paste in a kadhai, add the carrier oil to it, and heat it on low flame.
In 5-10 minutes increase the flame and let the mixture boil.
Now reduce the heat and let it simmer for another 15 minutes.
Once you find a slight change in the texture of the oil, off the flame.
Let the mixture stay aside for the entire night so that the ingredients blend well.
Strain this mixture in the morning and separate the oil in a container.
Ensure to apply this oil at least once a week to reap benefits.
What does this onion oil do?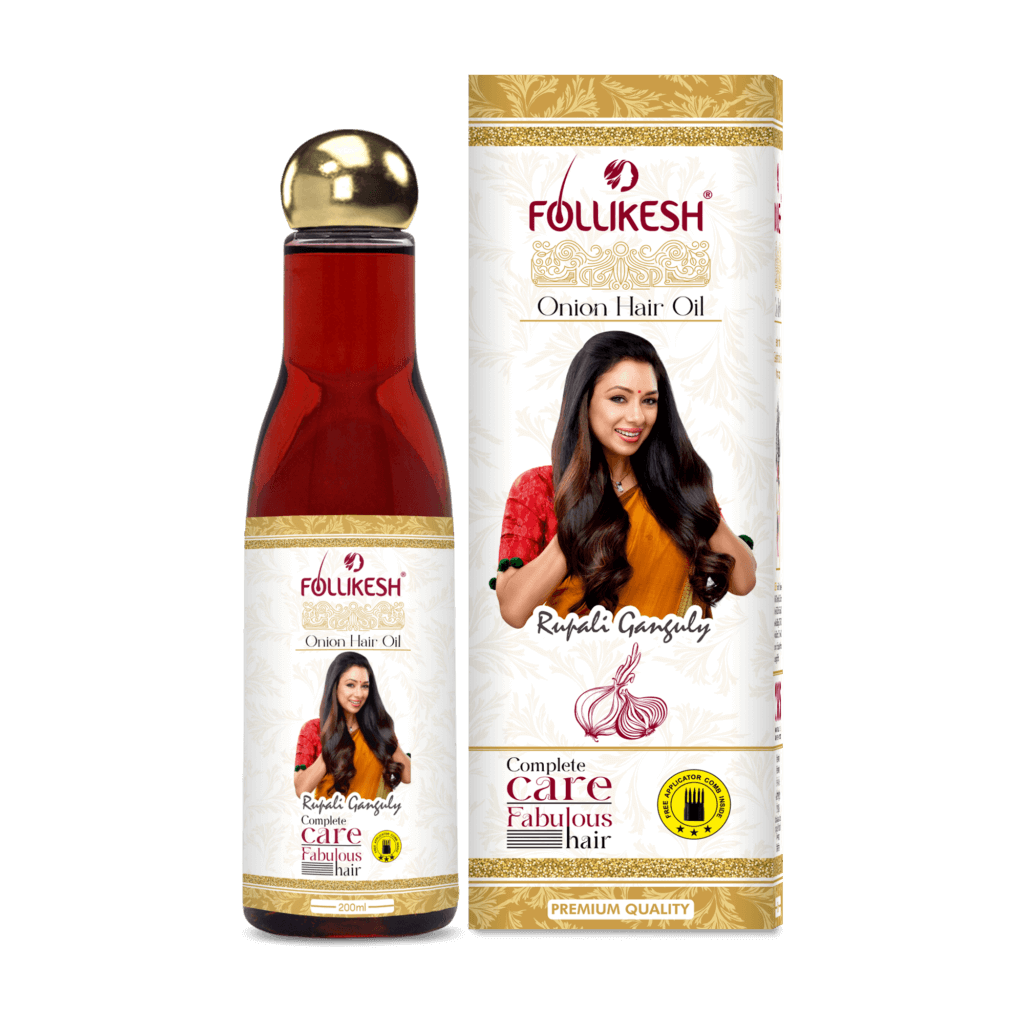 The primary forte of this onion oil, doing wonders for your hair and scalp, is its compounds that stimulate blood flow. The antioxidants present in this DIY onion hair oil for hair growth help protect your hair from damage. This means, zero hair fall and double hair growth and shine. The curry leaves help the pungent smell of onion to subside.
So, guys, try this at home for absolutely natural and safe onion oil that promotes hair growth! In case, you don't want the hassle of creating your own, buy onion hair oil online to enjoy similar benefits. Follikesh onion hair growth oil can help you achieve the best onion oil for a hair growth experience.