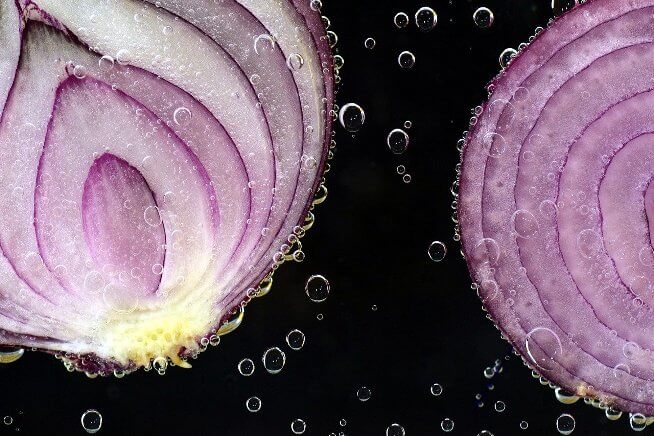 Although you are pampering your hair with regular oil and shampoo using the best products available, unusual hair fall can be a sign that something is not right. With so many ingredients showing potency, onion has been at the top of the list. The most commonly used vegetable in the kitchen, onion has been widely used in the hair care industry, all thanks to its promising results. This single ingredient possesses the ability to deal with dandruff, hair fall, split ends, and dullness and the results are backed by science and Ayurveda.
What do red onions do to hair?
Excellent source of dietary sulphur, Vitamin B6, Vitamin C, D & E, folate and crucial minerals such as magnesium, iron, and potassium, red onion has everything that your hair needs for proper growth and nourishment. The phytochemicals found in onions such as allyl disulphide, allium, and quercetin act as a protecting agent that boosts blood circulation while developing new hair growth.
Excellent uses of Red onion oil
Improves Scalp Health
Red onion oil can nourish and condition the scalp while contributing to a healthy scalp. Maintaining a healthier scalp reflects healthier follicles and hair growth. Hence, massaging your hair with red onion-infused oil can enhance scalp health while strengthening the overall scalp. 
Stimulates Hair Growth
Red onion oil has the potency to stimulate hair follicles while boosting new hair growth. Some studies suggest those massaging with onion oil experience enhanced blood flow with improved nutrient absorption.
Prevent Flake
The antiseptic and antibacterial properties of red onion oil help in controlling dandruff-causing flakes while treating the overall scalp for any other infections. 
Prevent Greying
Red onion involves the secretion of an enzyme known as catalase that works on the hair follicles to prevent early greying of hair. Although the result is noticeable with time, it is recommended to massage your hair and scalp regularly with red onion oil to achieve optimum results.
Conditions Hair
Red onion oil can be used as an excellent conditioning agent as it reduces hair fall, and adds softness and volume to your hair further.
Ways to incorporate Red Onion Oil into your Hair Care Routine
Although red onions are proven to show some wonderful effects on hair, creating your onion oil at home can be a long and tiresome process. There are better ways to incorporate onion oil into your hair care routine while eliminating fuss and odour. Pick reliable hair care products that are enriched with red onion from the wide range of products available in the market. 
Follikesh has launched an amazing premium hair care range. Crafted with the goodness of red onion extract, these products show promising results when incorporated into the daily hair care routine. 
Follikesh Onion Hair Oil
Restore your hair growth with a non-greasy formula Follikesh Onion Hair Oil. This red onion hair oil offers excellent nourishment throughout the day. It stimulates the hair follicles for regrowth while making your hair extra shiny, strong, and voluminous. 
Gently cleanse your hair to bring out the best with Follikesh Onion Shampoo. Crafted using the goodness of red onion, and other natural ingredients, this onion shampoo effectively reduces hair breakage, dandruff, and other hair problems. 
Use Follikesh Onion Hair Oil and Follikesh Onion Shampoo together to reap out maximum benefits of onion as a part of your healthy hair care routine.