If you've been struggling with hair fall and dandruff for a while now, then look no further when you have got onion in your kitchen. Rising hair concerns has been affecting almost everyone, without being gender biased. Maintaining a healthy mane takes a lot of perseverance and effort. But with this kitchen ruling ingredient, you can experience the ultimate difference in your hair.
The science behind how red onion oil helps hair to flourish
Ancient Ayurveda had recognized the commendable benefits of onion as a universal hair care long ago. The nourishing elements of red onion oil multitask on the scalp and hair strands to deliver natural results.
Red onion juice contains 21-26% oil and 15-26% proteins. It further contains 50-60% linoleic acid, oleic acid, and palmitic acid. Some of the other components of onion oil include hydrocarbons, acids, alcohols, phytochemicals, esters, Vitamins D & E, and Sulphur. This is a clear indication that onion oil is enriched with healthy nutritional components including several essential fatty acids, antioxidants, and proteins to nourish hair follicles while enhancing the thickness, volume, and shine.
Onion extracts contain sulphur as a key beneficial factor. Our hair is almost 95% made of protein, also called keratin. These proteins are made of smaller units of amino acids which ultimately have sulphur as a key element. Therefore, sulphur takes charge to blend with the scalp, and stimulate healthy growth of hair follicles to further thicken and strengthen hair strands. Sulphur is also responsible to act as collagen to reverse the early aging of hair and create a healthy scalp environment for hair growth.
Onions are a wonderful source of antioxidants called flavonoids. These antioxidants miraculously interfere with free radical damage triggered by toxic elements and pollution. We all know that pollution is the major aggressor to ruin the crown of glory while making the strands dull and dry. Therefore, antioxidants help to neutralize these free radicals that are ultimately destroying the scalp and affecting the hair follicles.
Onions have great potential to deliver antibacterial and antimicrobial results. These essential properties of onion help to induce the process of natural healing of the scalp in case there's any scalp infection.
Onion extracts have shown potential results in promoting hair regrowth. According to the reports, patients with alopecia areata (with patchy baldness) on applying onion oil felt positive results. Hence, including onion oil in your hair care routine is definitely the best natural option.
Follikesh onion hair oil to avoid DIY fuss, time, and smell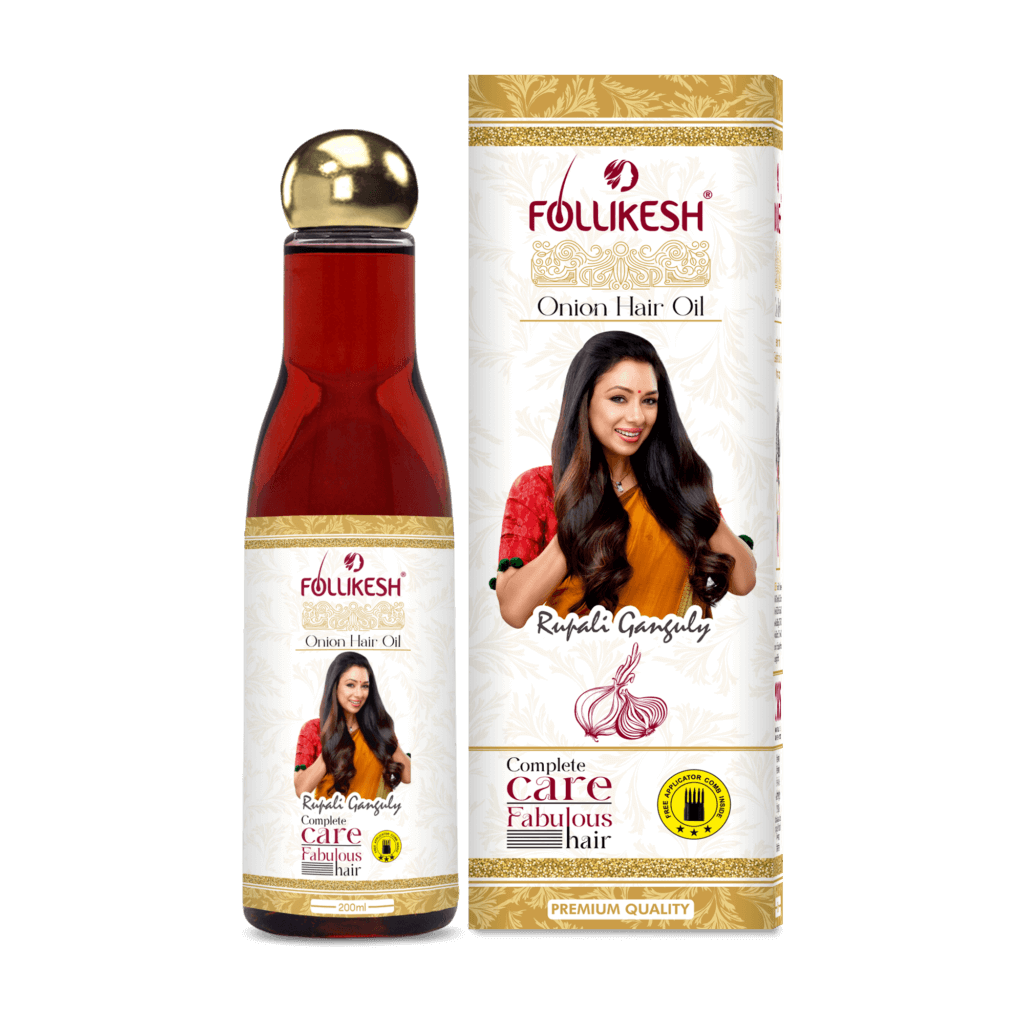 Preparing your own DIY onion oil at home can seem exciting, but in reality, it can create a lot of fuss in your kitchen. Without wasting your time, energy, and hassle to clear the mess, Follikesh introduces amazing red onion extract based hair oil with premium quality, purity, and natural hair boosting results. We'd heavily recommend you should try using the excellent onion hair care range of products from Follikesh to revive your hair and scalp.