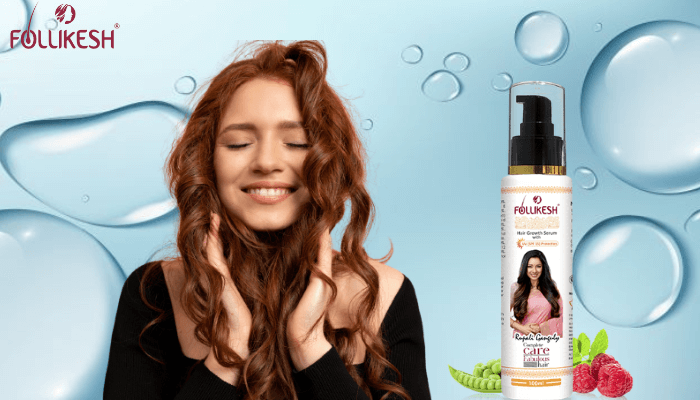 With the winter setting in, we all are revamping our wardrobes to welcome the season with the latest trend. I'm sure no one wants to miss out on the trends in terms of clothing and make-up. I know the feeling of 'being an alien' when not evolving with the trends. This same implies to your hair! Other than winter ruining your hair, there can be other XYZ reasons for your hair to go dull soon. Call it undernourished or crippling under the weather; the damage is for real, and it will continue to happen unless you interrupt. That one product recently introduced as a quick fixer and is winning over the market is nothing, but Follikesh Hair Serum.
On a single application, it actually lifted my dry and dull hair into lustrous and shiny within a few seconds. We didn't knew this hair serum from Follikesh could do much more than just condition hair. The UV-protecting ingredient involved in the making can protect hair from heat and UV rays damage. This serum delivers an instant boost of nourishment and hydration to your hair like other serums, but most importantly, it takes care of your tresses with the unique UV SPF-15 feature. 
In case your hair care routine does not involve serum then here's why you must invest in this wondrous today:
Benefits of Hair Serum
Softens tresses, and frizzy ends
One of the best benefits of hair serum is that it can tame your dull tresses and keep frizzy ends away. It helps moisturize strands by keeping your hair feeling silky, smooth, and soft. This hair serum is free from parabens and silicone to deliver a natural bounce to your tresses.
Prevents breakage of hair, and detangles hair locks
Tangled hair is highly susceptible to damage. When not treated on time, it can ultimately break from the roots. This hair serum from Follikesh can revive dull and dehydrated hair strands while making them more manageable. This serum easily detangles naturally like a pro while avoiding hair breakage further.
Offers Glossy Shine
The natural blend of ingredients in this effective hair serum helps to give a natural shine and glossy texture within a few seconds of application. The hair serum smoothly gives your hair strands an even finish while richly acting as a strong barrier between the hair and other alien elements.
How to apply Follikesh Hair Serum
To get the most out of your hair serum, you must know the right way to use it:
Pump a few drops of Follikesh Onion hair growth serum on your palm and apply over the length of your hair.
Ensure to spread it evenly without applying it over the scalp.
For best results, apply on your damp hair.
Now comb your tresses to detangle hair with a wide-toothed comb.
Best time to apply
Hair serums are usually applied on damp hair or when you have medium-dried hair with a towel. It helps lock the moisture within your hair, reduces frizz, and prevents dryness. You can reuse Follikesh Hair Serum before using any heat-styling tool preventing against hair damage.
Unlock shine and confidence with Follikesh Onion Hair Growth Serum!