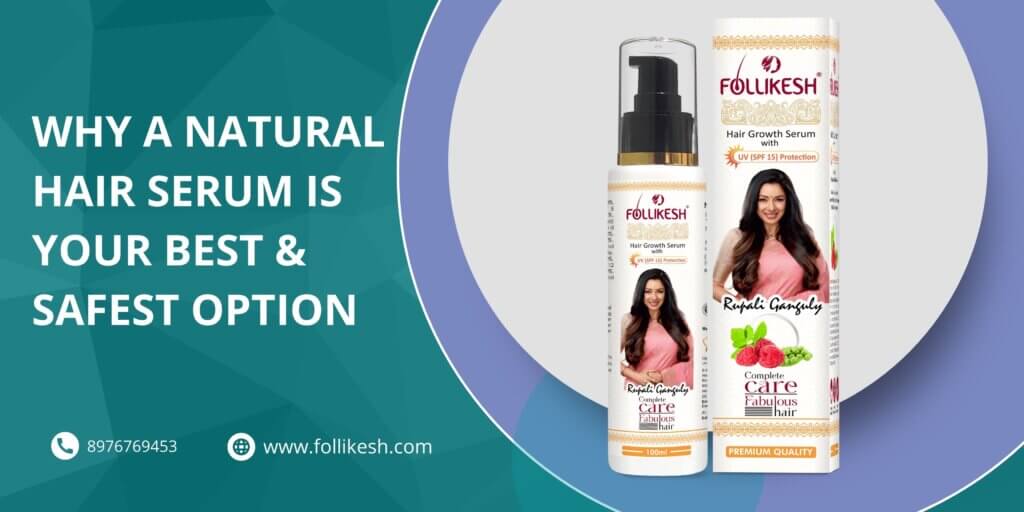 Whilst you are tremendously excited for the party to attend post work, you've got the whole party vibe on but your hair isn't supporting it, we all can relate. Your low-on spirit, frizzy and dull hair can get instant shine and bounce with the right use of follikesh hair growth serum. But not all hair serums are doing all things good to your hair. All thanks to those chemicals involved in making. The best solution is to opt for natural hair serum to avoid any kind of hair damage in the future. 
Hair serums are usually a mild silicon-based liquid that adds a shiny coating to your hair strands while protecting them from external damage or environmental impact. They are perfect to give your hair a frizz-free, smooth and shiny effect within a matter of few minutes. The concern arises when the silicon and other chemical elements get slightly high, leading to turning down your hair strands while leaving them greasy and heavy.
We understand your hair deserves the best, and this is why Follikesh Hair Growth Serum was born. Get a lustrous and healthy volume of hair with regular use of this best hair growth serum from the comfort of your home. The natural ingredients in this hair serum make this serum completely safe for everyday use. 
Why is Follikesh hair serum the best?
Follikesh hair serum is a perfectly balanced natural formulation that not only lifts the look and feel of your hair but also takes care of the health, and protects hair from damage. With zero involvement of paraben and sulphate, this hair protecting serum contains a unique UV SPF protection to make your hair heat protective.
Key ingredients:
Raspberry Seed Oil: Helps in strengthening, moisturizing and detoxifying hair to escalate hair growth.
Pea Sprout Extract: Helps enhance hair volume while promoting a healthy scalp environment.
Octyl Methoxycinnamate: It is the UV SPF-15 element that helps absorb, and reflect harmful rays and protects your hair and scalp from heat damage.
Redensyl: It helps in flourishing hair follicles to stimulate and promote hair growth.
No matter what type of hair you have, this hair serum has all the ability to nourish and hydrate the scalp and hair strands. On regular use of this hair serum, you don't have to worry about frizz, split ends, and hair breakage. The unique ingredient 'redensyl' helps activates your hair follicles for new hair growth. Therefore, this hair serum is best for hair regrowth and prevents hair thinning and other hair damage.
Don't let the UV rays and other environmental impacts take a toll on your hair, use this natural hair serum from Follikesh to witness the herbal potion.