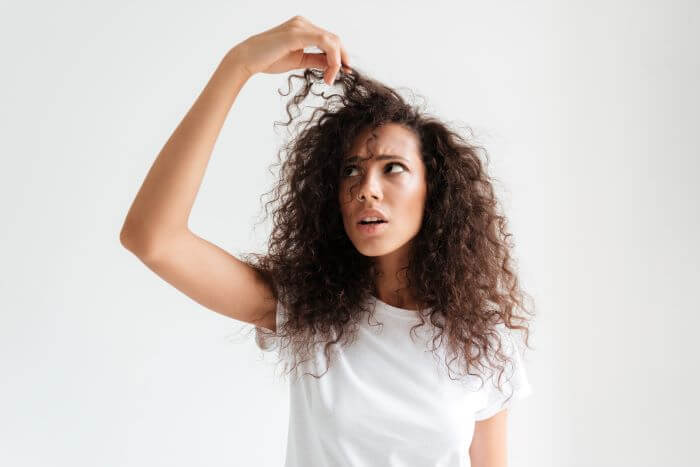 The numerous hair concerns are many times backed by changes in the weather. For instance, dry weather makes the hair frizzy and de-tangled, salty moisture waves welcome not-so-pleasant curls and waves, and heat during the summer brings in split ends and dandruff whereas the chilled months are responsible for dull and brittle hair. Whenever I'd complain about any hair concern during my high school days, my mom would bring out her 'magic mix' jar with all the kitchen ingredients. I have got several opportunities to witness the results of these magical kitchen ingredients, all thanks to my mom for profusely doing that, and honestly, my scalp smelled like some curry!
I'm sure all Indian moms are the same, so we all have been there and tried various recipes for our hair. Let's not forget those 'gharelu nuskaas' we've tried our hands on during the pandemic. For some of us, it worked and some had to face the consequences of not preparing accurate DIY recipes. Here's the top DIY you can create at home with powerful kitchen ingredients to address all your hair concerns.
FOR FRIZZY HAIR & SPLIT ENDS
Your frizzy and damaged hair needs the ultimate love and care with some of the result-driven kitchen ingredients that lock in moisture in the way it deserves. Yogurt and honey have amazing moisturizing and restorative properties that soothe your hair and scalp at the same time. Honey helps to keep your strands healthy, whereas yogurt – a probiotic ingredient helps prevent the scalp from infections while hydrating the ends. Smoothly blend both ingredients in a bowl. Once a fine paste is formed, apply it evenly to your hair and scalp. To ensure it doesn't get all over the head, use a shower cap.
The secret to healthy, tangle-free hair with zero split ends is nothing but protein. Using the perfect strong dose of protein from avocados for your hair can do wonders! The olive oil base will give instant nourishment and shine while locking the moisture in your strands. Use this simple yet effective trick in the morning throughout the spring season to get the most out of this. All you have to do is, whip up the avocado pulp in a few drops of olive oil. Apply the paste to your hair strands and let it stay for at least 30 minutes. Wash it off using a mild shampoo to see superior results.
FOR BRITTLE AND DULL HAIR
The top reason for those brittle hair strands and dull hair are the accumulated build-up of greasy oil and dust on your scalp. Pollution, hard water, climate change, and sweat further aggravate the woes. The best you could do to save your hair is by detoxing your scalp with the use of lemon and rosemary oil. Simply squeeze one whole lemon into a bowl and add a few drops of rosemary oil and some lukewarm water. Mix it well and soak your hair strands into it. You can also massage your scalp by taking this mixture off your fingertips. Leave it in your hair and wash it off with mild shampoo after a while.
Enriched with potassium, carbs, biotin, and other natural oils, bananas are truly bliss for the hair. They make hair soft and smoother. Excellent for curly hair, a banana can boost the strength and shine of your hair. To prepare a mask at home, mash one banana. Add a few drops of coconut milk to it to expand the quantity when you have long hair. Let this stay in your hair for at least 30 minutes before you rinse.
FOR DANDRUFF
We all love the essence of freshly ground coffee, it instantly refreshes the mood! Using this as a key ingredient to scrub off impurities from your scalp is the best way to cleanse and hydrate at the same time. The antioxidant properties of coffee have the ability to stimulate the scalp for enhanced blood flow while scrubbing out excess oil and dandruff. End result? You can have a healthy, highly functioning scalp with a refreshing bonus of fragrance. All you have to do is, mix freshly ground coffee in a small amount of coconut oil or yogurt.
Also known as besan, ground gram flour has a great effect on skin and hair when used precisely. It is considered one of the best kitchen ingredients for fabulous skin that has been used by maximum Indians for many years now. This powerful ingredient similar does wonders for your hair and scalp too when used as a DIY scrub. Blend a few tablespoons of gram flour with olive oil (only if you have dry hair) or coconut milk to make a fine paste. Apply it all over your scalp and hair and gently massage your scalp. Finish this DIY by shampooing your hair with mild shampoo and lukewarm water.
FOR HAIR FALL
Curry Leaves and Fenugreek Oil
Add the hair-loving ingredient to your regular champi sessions by mixing fenugreek seeds and curry leaves with your regular hair oil. Fenugreek, also known as methi is enriched with protein that ensures the reduction of hair fall. The antioxidant properties of curry leave efficiently promote hair growth. To prepare DIY, evenly crush both super ingredients in a blender and soak them in warm coconut oil. You can store it in a bottle for your weekly champi sessions.
Soy Milk and Sandalwood Mask
The blooming effect of sandalwood has already made a buzz in the beauty and fragrance industry. This blissful gift from Ayurveda has an astringent feature of controlling excess sebum and oil production. It further stimulates the roots to create them stronger while boosting hair growth. Simply mix the sandalwood powder with soy milk powder and make a fine paste. You can use the paste as a mask once a week to minimize hair damage and promote hair growth.
Experience the chemical-free, natural, and organic way of taking care of your hair concerns with Follikesh. This premium range of hair care products is designed by experts for good hair day every day. Unleash voluminous, glossy, and stronger hair growth with Follikesh!